AT MB IT'S NOT AN OPTION: IT'S STANDARD.

Standard

Surf System
STANDARDS
MORE CUSTOMIZATION, INCLUDED.
We're taking standards to a whole new level. We've looked at the most popular options and are including them all as standard for 2023. This provides MB owners with more of what they love, standard. Providing a class leading boat, as a starting point. Now MB owners can spend more time customizing the look of their dream boat and less time on the cost of each accessory.
Plug-n-Play Ballast
Surf System
Power Tower
Clamping Surf Racks
Package B Audio
8.8" Cockpit Speakers
12" Subwoofer w/1000watt Amp
Any Gatorstep Configuration (2-layer)
Gatorstep Under Storage (Alpha only)
All Powedercoat Options
Fender Clips
Additional Pair Cleats
Transom Remote
Shipping Cover & Prep
*SOME CONFIGURATION RESTRICTIONS MAY APPLY
BOATMATE TRAILERS
BEST IN CLASS TOWING
Boatmate Trailers is dedicated to building the highest quality premium boat trailers in the industry. Boatmate Trailers push their passion to the limit to deliver more than you expect. Innovative styling and superior construction provides a boat trailer that looks better and goes farther.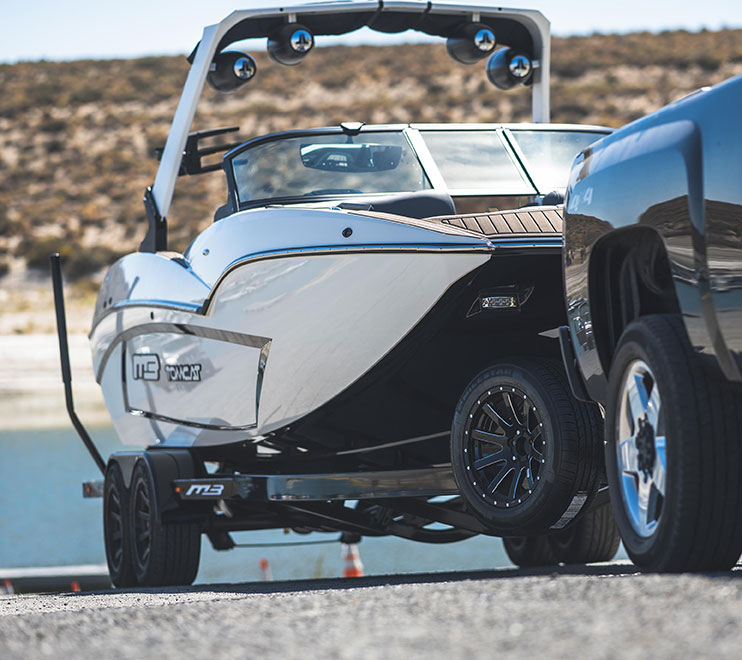 DISCOVER MORE
FIND A DEALER NEAR YOU
Get up close-up with an MB near you and start designing your next dream boat at an MB dealer.